The Challenge
–
CSV completed an Epic EMR conversion thirteen months prior to the Pinnacle engagement where they modeled the design after a separate, larger hospital, within the healthcare system.  As opposed to the 2-year design and 3-6-month stabilization that typically accompanies an EMR implementation, CSV received limited hands on training to learn the inherited EMR system.  As a result, account flow within the system was not clearly understood, resulting in broken workflows, inaccurate or incomplete reporting, and a general lack of transparency and accountability.  This led to an increase in AR and unbilled days and an overall reduction in cash.  Early struggles resulted in a failure to embrace the new technology and an increased need for change management.
Approach
Pinnacle leveraged their extensive Epic background to quickly identify populations of AR that had become stagnant and were not moving forward within the account life cycle. Pinnacle created reports and queries to identify at-risk account populations while also implementing dashboard metrics to track and trend vital metrics.
Key activities included:
Common themes across all initiatives included:
Established education surrounding Epic functionality and workflows to ensure end user understanding and long-term metric management

Leveraged system automation to move towards an exception-based workflow

Improved communication across departments to establish a collaborative, problem solving culture

Developed reporting and custom metrics to improve transparency and accountability
Results
CSV achieved improvements in many key metrics over a five-month period from October 2019 through February 2020. most notably:
5.2 day reduction (9%) in AR days with minimal write-off based initiatives

4.5 day reduction (60%) in Candidate For Bill

3.0 day reduction (24%) in insurance AR aged 91+

0.5 day reduction in accounts failing to qualify for Epic workqueues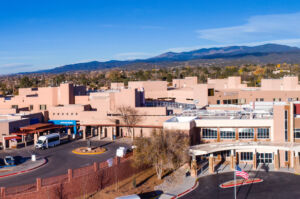 About this Client Partner
Christus St. Vincent Regional Medical Center
Located in Santa Fe, NM, CHRISTUS St. Vincent (CSV) is a 200-bed hospital operating under a partnership with CHRISTUS Health and SVHsupport. Each year, more than 13,000 patients are admitted, and more than 200,000 outpatient hospital encounters (including physician practices) occur at CSV.
 "I've appreciated your willingness to poke holes and dive into our metrics.  I know the team appreciates your willingness to partner with them and educate around what's available in Epic and how it functions.  Without that insight, we would still be flying blind."

Reuben Murray

Chief Financial Officer,
CHRISTUS St. Vincent Health System
 "From a system revenue cycle perspective, you are very value added. My challenge is to get you into as many areas as possible. As we look toward building the perfect Epic for our future facilities, I see you playing a larger role."

Ryan Thompson

Senior Vice President of Revenue Cycle,
Senior Vice President of Revenue Cycle