Using metrics to drive actions that improve financial results
Managing your revenue cycle in a world of shifting populations, increasing patient financial responsibility, and competitive pressure on volumes can be challenging, to say the least!  There are so many variables and changes in core processes that it can seem like an impossible task to keep track of it all.  The concept of using a scorecard is not new.  But when environmental factors begin to shift (and they will), we have found that managing to specific metrics, interpreted using a defined methodology, will enable hospitals to more quickly act and correct or mitigate degrading financial performance.
Let's look at how to build an effective revenue cycle scorecard.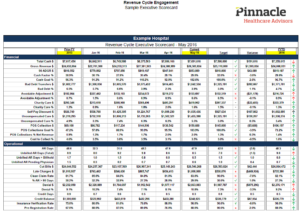 How it Works
The most important aspect of a scorecard is that it enables the organization to take action in specific areas to address issues more quickly.  An effective scorecard is designed to give you the ability to achieve desired financial outcomes, such as increased net revenue, improved cash flow, and reduced expenses.  Mechanically, this is done by measuring operational activities that drive outcomes in sufficient detail so that they are actionable.  If financial outcomes can be tracked to actionable operational metrics, then CFOs have the ability to drive accountability across the revenue cycle.
Taking Action
Let's look at an example where a hospital experiences an increase in accounts receivable (A/R) days yet still meets its cash collection goal.  With an effective scorecard, CFOs can "follow the story" back through the organization to help identify the cause(s) of the increase.  Look at bad debt transfers and components of uncompensated care such as charity care and self-pay discounts – it could be that there are backlogs in charity approvals and/or a bottleneck in the bad debt transfer process if either of those metrics are trending below target.  Both would cause A/R days to go up while maintaining expected cash collections.
To aid in troubleshooting, it is also important to have operational reports with drill down capabilities that serve as the source for the metrics on the scorecard.  For example, a daily unbilled report that breaks down the backlog by uncoded, pending physician dictation, pending edit resolution, etc. and includes targets and owners for each category.
Summary
Building an effective revenue cycle scorecard is not exceptionally difficult.  But creating the cultural environment where metrics are understood and teams know how to address root causes can be challenging.   At Pinnacle, our experience has shown that when CFOs educate their teams so that they know how to interpret metrics and make decisions, they will maximize financial performance.  Formulating the scorecard is the first step – but establishing a coaching, teaching, and mentoring process is what will drive sustainable revenue cycle improvements.
Related Posts:
To learn more about how leveraging the right metrics can improve your revenue cycle, visit www.pinnaclehca.com.